Our success in efforts to help women who are fighting cancer is thanks entirely to people like you. When you click and view sponsor ads, purchase from our store, or make a direct donation to one of the many wonderful programs we highlight and support, you produce results like these. Thank you for your support to help fight breast cancer on all fronts!
---
University of Michigan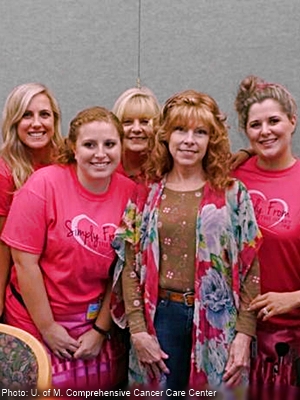 Universities are not just about providing an education. They are also places where cutting-edge research and innovative health programs are developed and implemented. Your actions at The Breast Cancer Site have helped support many different aspects of the University of Michigan's Comprehensive Cancer Center, including both research and patient care.
How do these programs affect real people?
For one thing, it can completely change how cancer patients who have undergone chemotherapy see themselves.
One of the programs we support is the University of Michigan Comprehensive Cancer Center's Wig Bank. It may not sound like the most important aspect of cancer care, but for a woman fighting for her life and undergoing chemotherapy, losing her hair can be a horribly traumatic experience. Imagine feeling weak and sick, and not knowing whether you are going to survive your ordeal. Now imagine hating the way your appearance has changed on top of that turmoil.
Wigs are expensive and difficult to match, and patients may have neither the access nor the energy to hunt them down. One patient had been excited about a family wedding - until she was diagnosed with cancer and had to face hair loss as part of her treatment. She didn't know how to talk to her friends and family about her cancer at such an event, but her hair loss would put her diagnosis into the spotlight. The wig bank came to her rescue, relieving her of social anxiety she did not need, and helping to ensure that the wedding was a happy event for everyone involved.
Another young patient was having a rough time during treatment. A nurse thought a wig might help, and took the time to help her try on each one - as close to her natural color as she could find. When she tried the last one on, she started to cry; she couldn't believe how much it looked like her real hair. It's amazing what restoring that confidence can do for a person's recovery.
Do more to help the University of Michigan Comprehensive Cancer Center, and other programs supported by GreaterGood and The Breast Cancer Site!
Click here »
---
Hope for Two: The Pregnant With Cancer Network
Pregnancy and cancer have one thing in common: they are complicated. Women who are pregnant and are diagnosed with cancer face a whole new level of fear, and are forced to choose what is best for themselves and their babies every step of the way. Hope for Two recognizes that it's vital for these women to obtain complete and accurate information and receive support without judgement for their decisions.
Can a network help with lifechanging decisions?
When a woman has an advisor with experience, knowledge, and training, hope is a tangible result.
Athena was diagnosed with Invasive Ductal Carcinoma when she was 7 weeks pregnant. She immediately contacted Hope for Two, hoping to speak to someone who had experience with the situation. They didn't let her down, providing her with information, hope, and support. She gave birth to a healthy baby girl named Persephone, and wrote a poem about her experience.
I HOLD A LIGHT
By Athena K. Davis
I held a lump
I held my breath
I held my husband and wept
I held my face in my hands and cried
I held my breast before they took it
I held my chest after
I held my belly as it grew
I held my friends and family
I held my dreams and my plans
I held my sadness and darkness
And I held my fear
On October 19th I held something different. Something I've never held so strongly......I held hope.
6 pounds and 8 ounces of hope.
I held my baby
Today I hold a torch. For her and other women who may walk the path.
I won't hold the silence
I will hold the light.
Do more to help Hope for Two, and other programs supported by GreaterGood and The Breast Cancer Site!
Click here »